Shop
« Exceptional plot »

Red wine / bordeaux / Medoc / Prestige
A very beautiful wine of guard coming from a plot of old vine highly qualitative. A haute couture work for this wine harvested by hand and vinified entirely in barrels.
The enclosure will marvelously accompany a dish of red meat. A nice tournedos of bazadaise with baked potatoes or a gratin. A simple dish with products of excellent quality is enough to let express this refined and balanced wine.
Precision
Balance fruit & tannins
Net mouth
Powerful finale
Aromas black fruits, gingerbread, vanilla
« First wine of the property »

12

€

13,50

€

13

€

13,50

€

13

€

12,50

€

13

€

12

€

11,50

€

13,50

€
La bouteille
Red wine / bordeaux / Medoc / 60% Merlot / 40% Cabernet Sauvignon
The first wine of Château Sigognac, is a balanced and expressive wine, a resolutely Medoc wine with character!
The aging is done in barrels during 12 months.
A beautiful stuffed guinea fowl, a roast veal with cloves garlic confit shirt … Gourmet and generous dishes that we like to enjoy and share a Sunday with family … Here are some dishes with which Château Sigognac will express all its power and character Medoc.
Expressive nose on the fruit
Roundness in the mouth
Light and ripe tannins
Spicy notes
« Buddy wine! »

Red wine / bordeaux / Medoc / Monocépage
A true wine of sharing and a different way to see the Medoc!
A desire to create a gourmet wine and easy to drink for all occasions. The 100% Merlot Sigognac will be ideal at a barbecue with friends. Beautiful grilled beef, sausages, vegetables with olive oil and well flavored, you just have to close your eyes and you're already there …
A buddy wine for generous dishes, to share!
On the fresh fruit
Round and light tannins
Explosive in the mouth
Note of freshness in the final
« Slightly sweet »

Whit wine / sugar / bordeaux / Medoc / 100% Semillon
The UFO of Medoc! Only sweet wine 100% Semillon produced in the Medoc. Very light with only 25g of residual sugar.
Perfect for lovers of sweet wines but not sweet!
A glass of fresh Jonquil will sublimate a cheese platter. It is also very nice on a chocolate dessert or a "sweet salty" dish.
Sweetness and roundness
White fruit notes (peach, pear)
Sugar tip and roundness
Freshness on the finish
« Summer wine »

Vin rosé / bordeaux / Medoc / Rosé de saignée
Good value for our rosé, very nice to accompany your summer evenings. With an aperitif in the sun or a barbecue, It drinks well fresh and can also be the base of delicious cocktails! It is produced and treated with the same attention as all the wines of the property.
Rose bleeding
Pretty light pink color
Strawberry notes
Gourmand and light
« Dry white wine »

Dry white wine/ bordeaux / Medoc / 100% Semillon
A dry white wine from our parcels Semillon located at the entrance of the property! Good value for money.
It will go perfectly with a plate of seafood or oysters to enjoy at the water's edge on our magnificent Silver Coast!
Dry but quite fruity
Citrus notes (lemon)
Notes of fruits and white flowers (jasmine)
Light and fresh "garden wine"
« To discover our wines »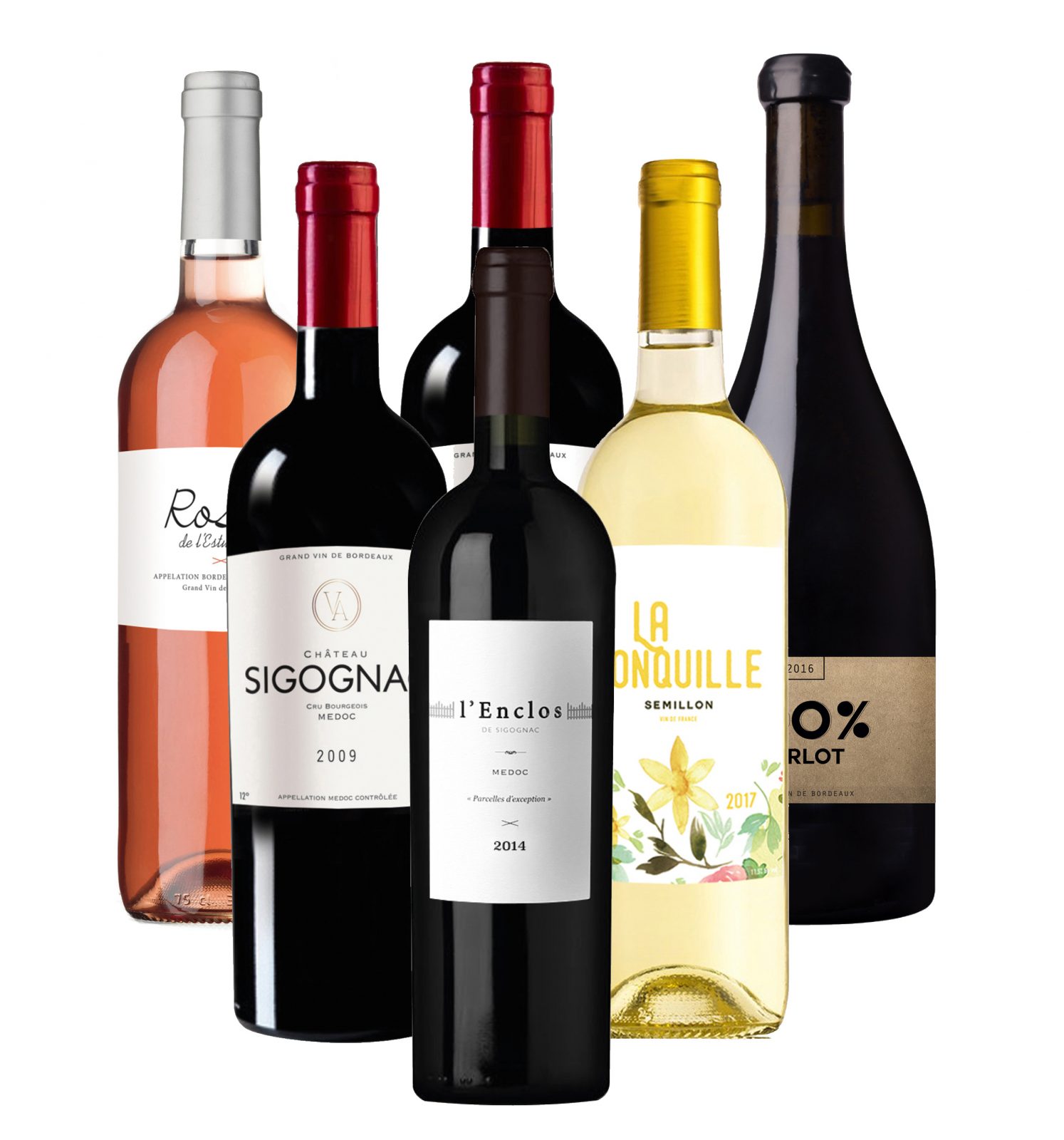 La caisse de 6 bouteilles
Wine / red rosé and white / bordeaux / Medoc
If you do not know our wines yet, this is an opportunity to let you guide and discover our range with ease.
Wines adapted to different occasions but all designed with the same care.
1 ROSÉ DE L'ESTUAIRE 2017
1 LA JONQUILLE 2017
1 100% MERLOT 2016
1 CHATEAU SIGOGNAC 2011
1 ENCLOS 2013
1 B DE SIGOGNAC 2015